Tapas and Wine: Gastronomic Stroll through Barcelona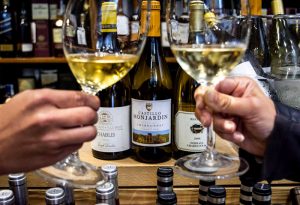 If you believe the best way to explore a city or country is to try what people eat and drink there, then this foodies tour is for you! During the tour, you will begin to understand why Catalans and Spaniards pay so much attention to food and drink, and you will discover some of the secrets of Mediterranean cuisine. At the same time, you will explore one of the most interesting corners of Barcelona's Old City.
TOUR HIGHLIGHTS
This delicious tour is divided into three main parts:

1. A visit to one of Barcelona's food markets, where you will become acquainted with Catalonia and Spain's main delicacies and learn about their characteristics, and how and where to buy them best.
2. A tasting of Spanish wines, cheeses, jamón (Spanish cured ham) and other deli meats at one of Barcelona's best wine bars (enotecas). You will discover some of the best wines of the Iberian Peninsula and learn what they combine well with.
3. A tasting of tapas at a traditional family restaurant. Tapas are Spanish cuisine's most popular phenomenon. They are essentially snacks, which consist of an endless variety of dishes. They can be cold or hot, and contain meat, fish, seafood, vegetables or a combination of any of these. Classic tapas bars offer dozens of options. Without an experienced assistant to guide you through this luscious jungle, it could be an arduous task to choose.
TOUR DURATION: 3-4 hours
TOUR PRICE PER GROUP (not including tasting):
€180 (1-3 people)
€195 (4-6 people)
€250 (7-10 people)
Price for tasting: On average it works out to about 50-60 euros per person for the entire tour, though it naturally depends on the amount of food and drink consumed. If you let us know your budgetary needs regarding the tasting, we will take this into account when we put together the tour.
Price for 11 and more people available upon request.
The tour is private, for you and your party only. The price is per group, not per person and includes personal English-speaking guide.
No advance payment needed, free cancellation anytime before the tour date. We know plans can change, and we're OK with this. Just let us know as soon as possible if you decide to cancel a tour. You make the payment directly to a guide on the day of your tour.
To book a tour, please fill out the form at the bottom of this page, or contact us at:
[email protected]
Tel.: +34664861414
To BOOK A TOUR now, please fill out this form, and we'll get back to you very soon!